This PROJECTS Page Name: twelve.htm is under development. It will present Rosenthal's work by "Project" name,. Comprisimg each "project" are the art and artifacts that accumlated under each concept as it was exhibited and as it evolved and developed over time, from its initial inspiration through each of its iterations as physical / electronic artwork and presentation / interaction with public, including posters and documentation as well as the public reaction, including reviews.
One of the most notable features of this artist's work, is her "re-visitation" of previous works, and in a continued, committed involvement in its evolution over time, and often in various combinations with other prior works. In many projects, that recombinance has been taking place over the course of 50 years, or, as in the case of the subject of this Project Page: Journals, for almost 60. And the use of its pages as physical space has been of interest pubically; and the idea of Handwriting, etc.

JOURNALS

HISTORY OF THE PROJECT
1959-ongoing
78 volumes as of August 2017


ARTIST'S STATEMENT:
I began keeping a "Dear Diary," as many little girls do, when I was 11 years old, and in the Sixth Grade, Miss Berlin's class, at the Monroe Street School in Franklin Square, Long Island, New York, 1959. There is a code to the pages, which I don't remember, but perhaps someone might decipher some day: I remember that the way I wrote the acrosstick "N O T H I N G H A P P E N E D" meant that something important happened, and that the way I crossed the letters and folded down the page was mnemonic. It was a small white leather-bound volume with gold edging and a little gold lock and key. I still have it, kept with the other volumes, in the "Trunk of Journals" in the eMediaLoft archive.
The next volume, a Five Year Diary, however, unfortunately, is missing. I do still have its box. It was a green leather-bound 5-year volume, wherein the pages are designed to be written across from day to day, and girls are encouraged to write each year in different color inks, which I did from 1960-65. These were my youth at Alva T Stanforth Junior High School, when I was editor of the "Signature" and won First Prize in the Science Fair, which led to my being assigned to an army-led program for budding astrophysicists and aeronautical engineers: the Instrumentation and Automation Program of Sewanhaka High School. I was the only girl, I was 15, I was headed for psychosis, I was not permitted to quit; instead I was sent to "art school." I began at The Brooklyn Museum for two years, and then The Art Students League for two more. I got out of the physics concentration and became editor of The Arrow. I turned down a full merit scholarship of English study at Vassar, to study art at Carnegie-Mellon. This is the 5-year diary that is missing.
Volume 3 picks up as I leave for college. There are 78 Volumes now. A few others had gone missing, but then been miraculously found by strangers, and returned from various parts of the world! One, Volume 6, is now as this very web page is under development over 40 years later, is playing a part in solving an international conspiracy assassination report. Most have been scanned. A few are online as is, in whole or in part, a few of my artist books and videos include them. Each current one is always within arm's reach. When I die, my archives will be housed in the Spedial Collections / Hunt Library, Carnegie-Mellon University, Pittsburgh, PA.
The Journals have been the repository of all my first germs of thoughts -- because as soon as an idea of any kind plurps into my mind, I grab the Journal and a pencil (sometimes a pen). Then at some later date, when I'm culling materials to combine into another Project, I come across some little gem, and pluck it from the Journal-vault, and use it in some way in an emergent work of art: Some Projects have sprung exactly from it, such as "Homo Futurus," "Button Pins," "Provocation Cards,""Handwriting Analysis," etc. But some also in deliberate opposition, such as "Wish for Amnesia."
PAGES FROM THE JOURNAL VOLUMES: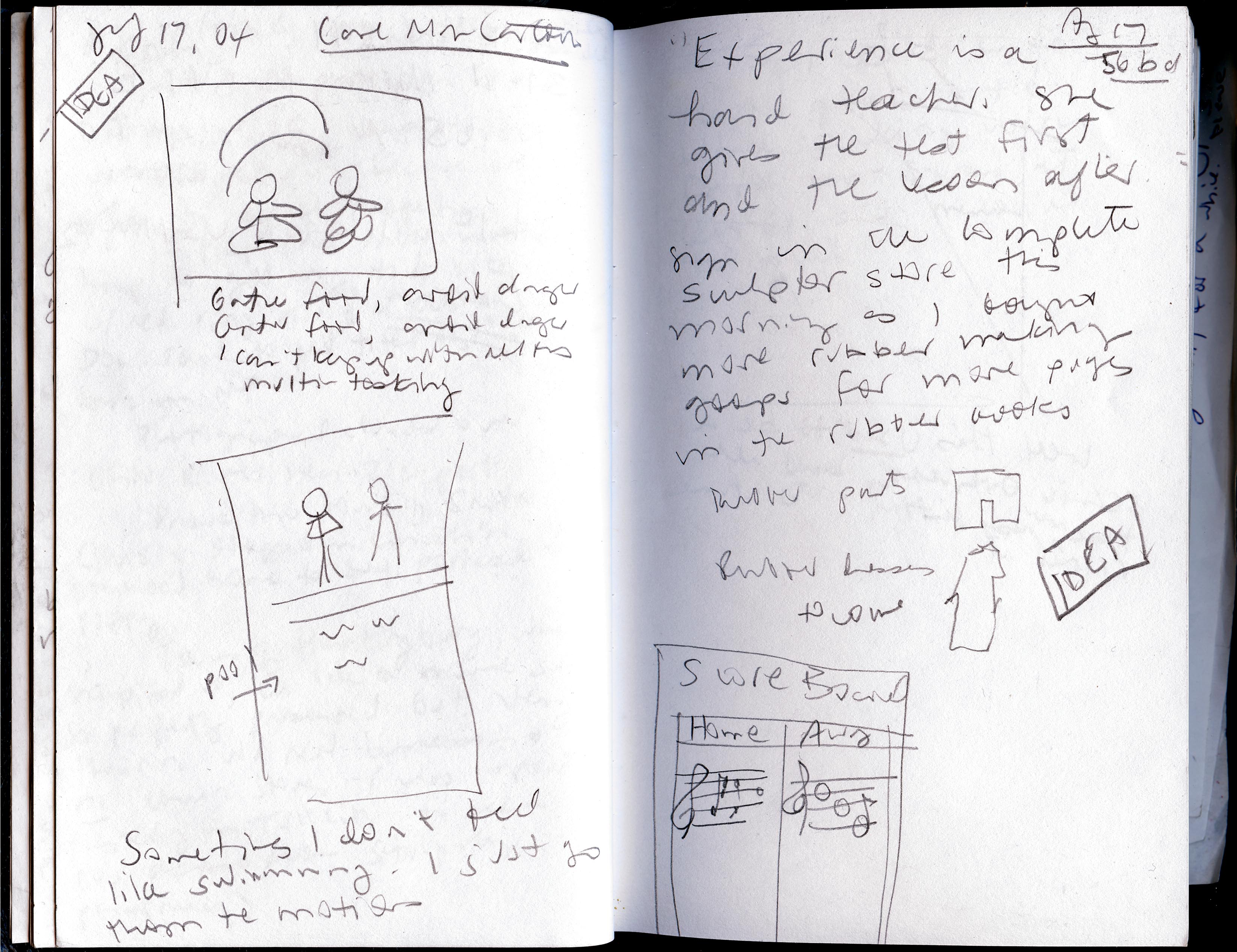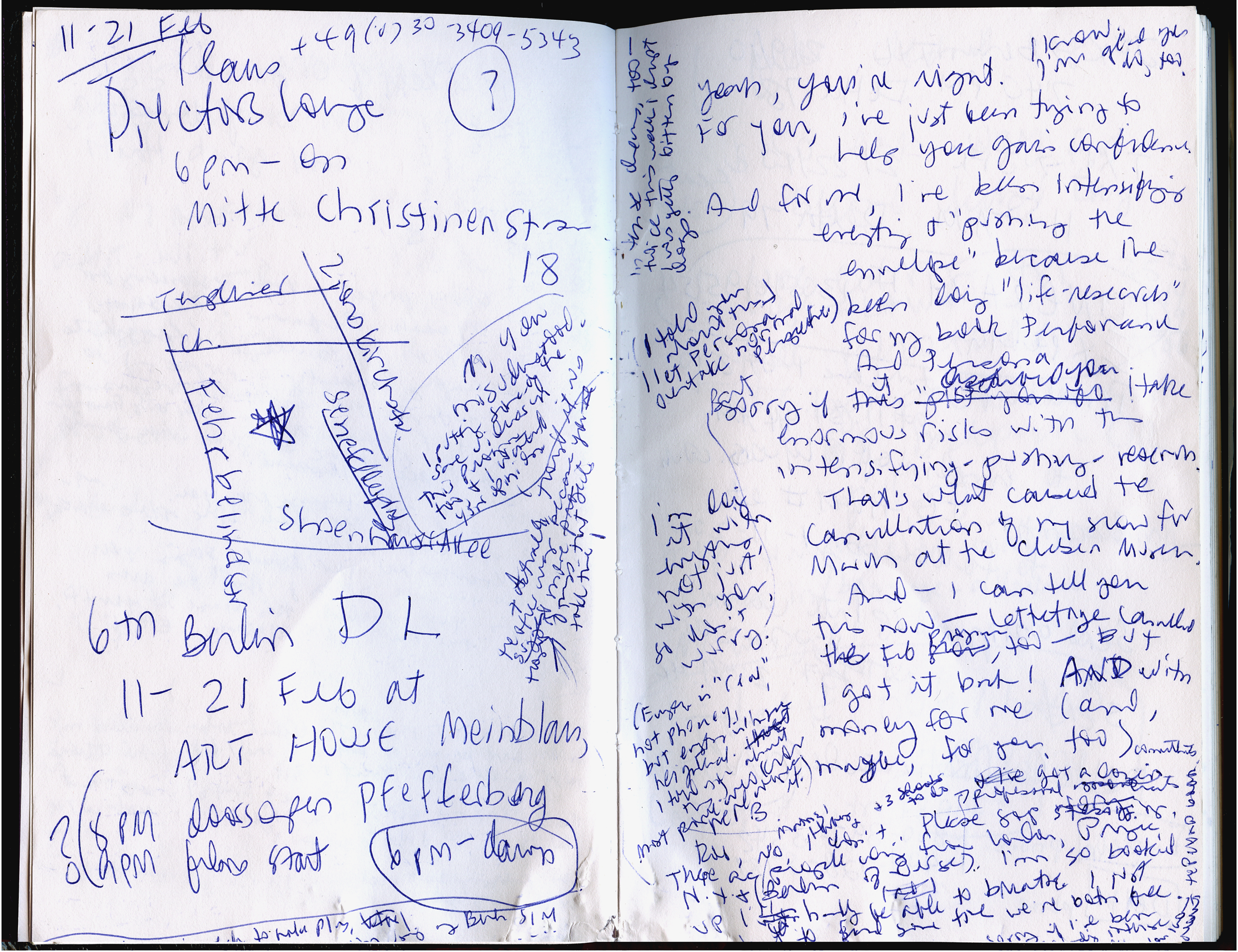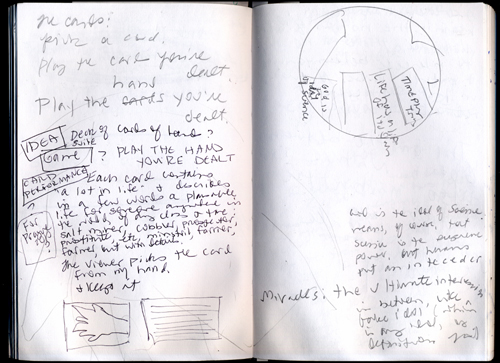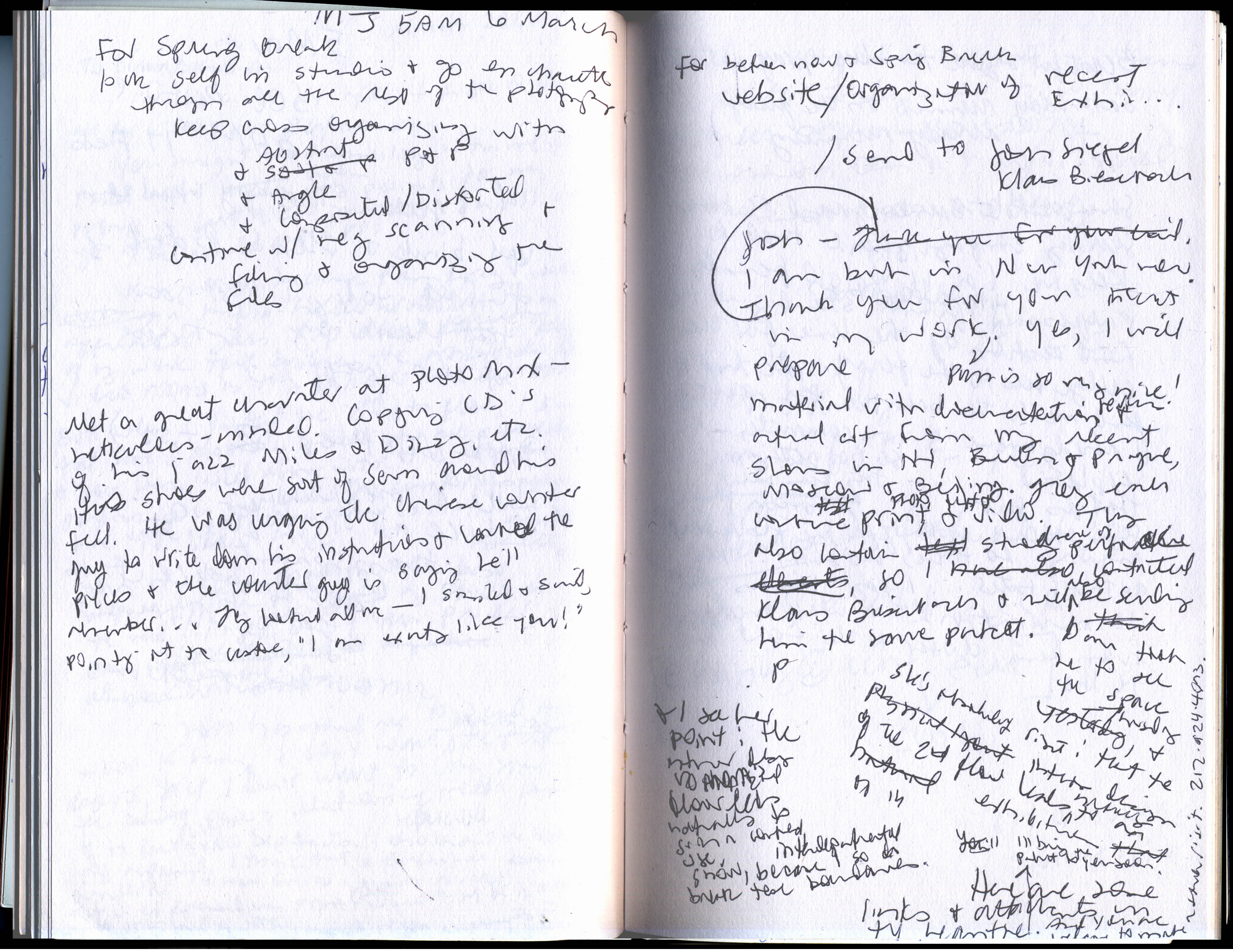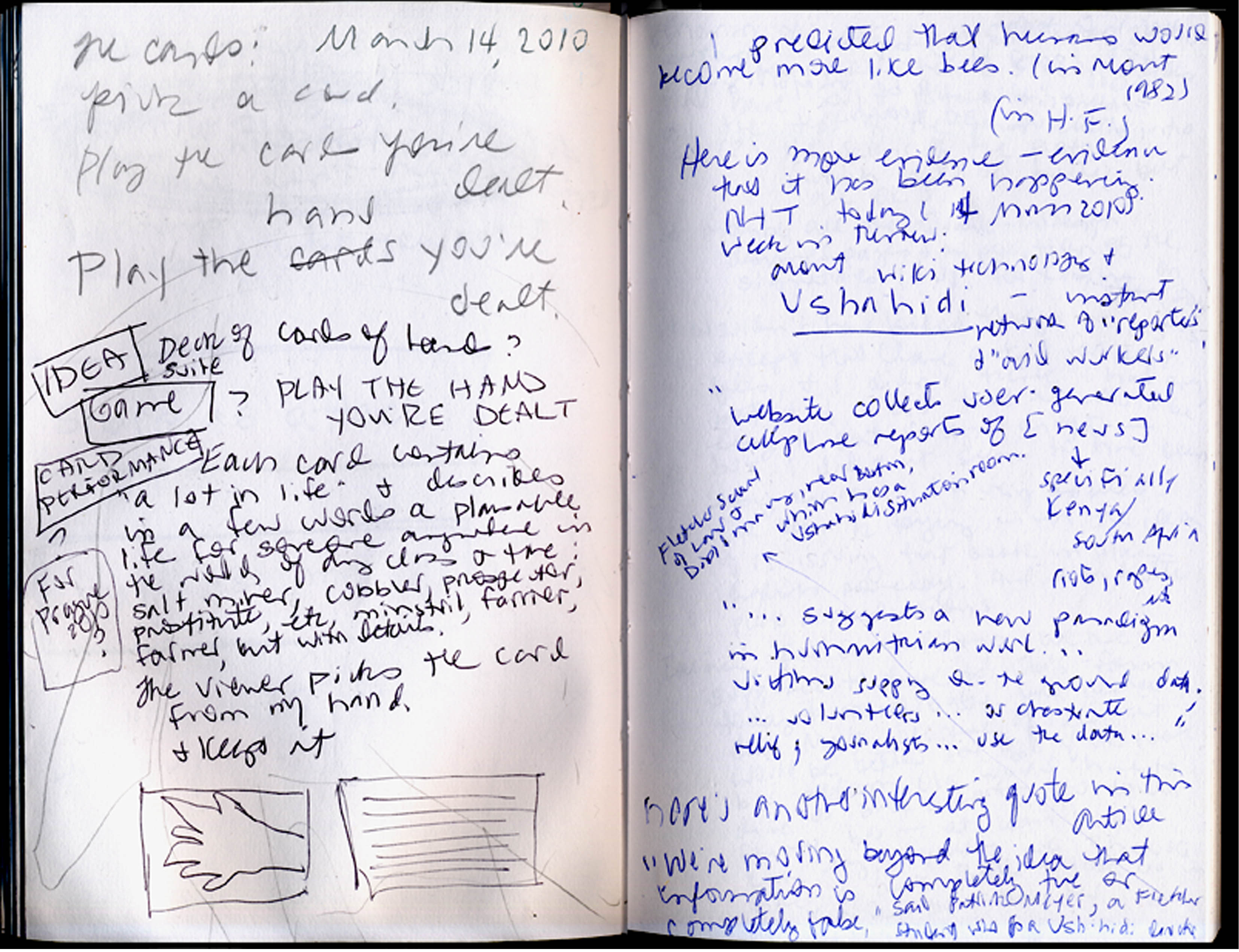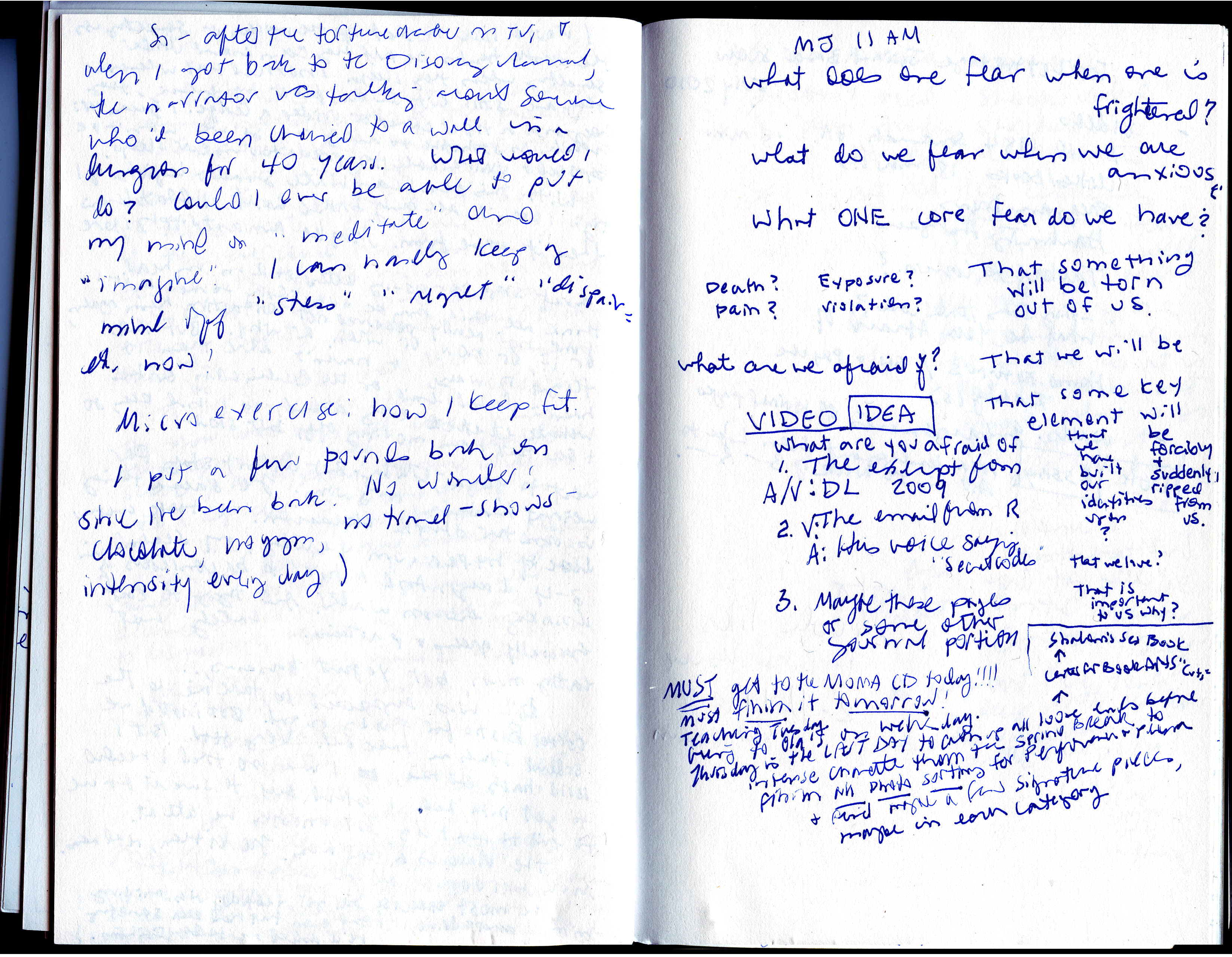 TRUNKS OF THE JOURNAL VOLUMES and OTHER ROSENTHAL MANUSCRIPTS, eMediaLoft.org, NYC: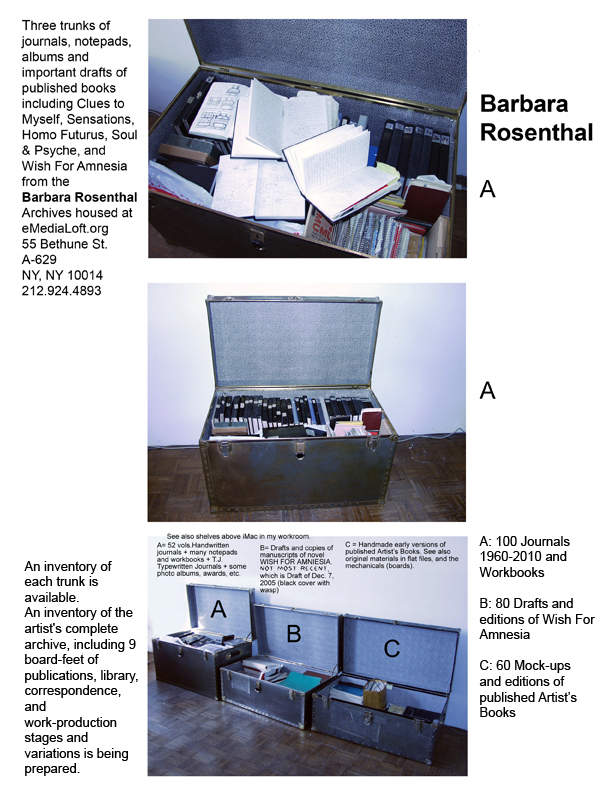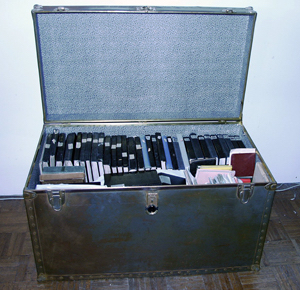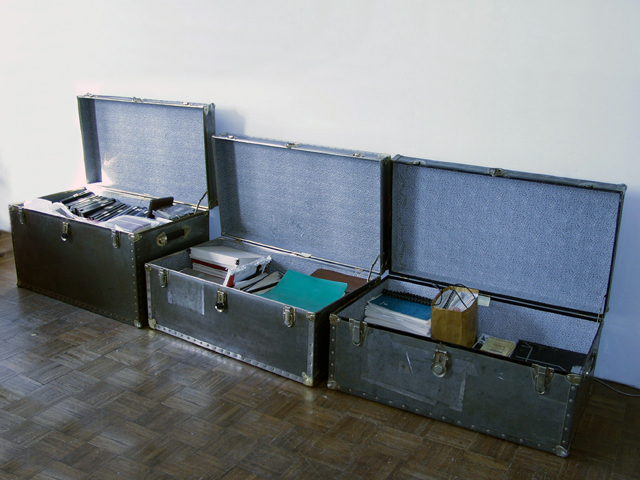 PUBLIC EXHIBITIONS / PERFORMANCES / DISCUSSIONS

// "Das Tagebuch gibt mir Ideen" Lettrétage, Berlin, 2010 //
// "Journal Into Art" Central Booking, Brooklyn, April 1, 2011 //
// Metro Arts, Brisbane, 2013 //
// "Frenchiotics" Sketchers, NYC, 2014 //
// The Center for Book Arts, NYC, 2015 //


// "Das Tagebuch gibt mir Ideen" Lettrétage, Berlin, 2010 //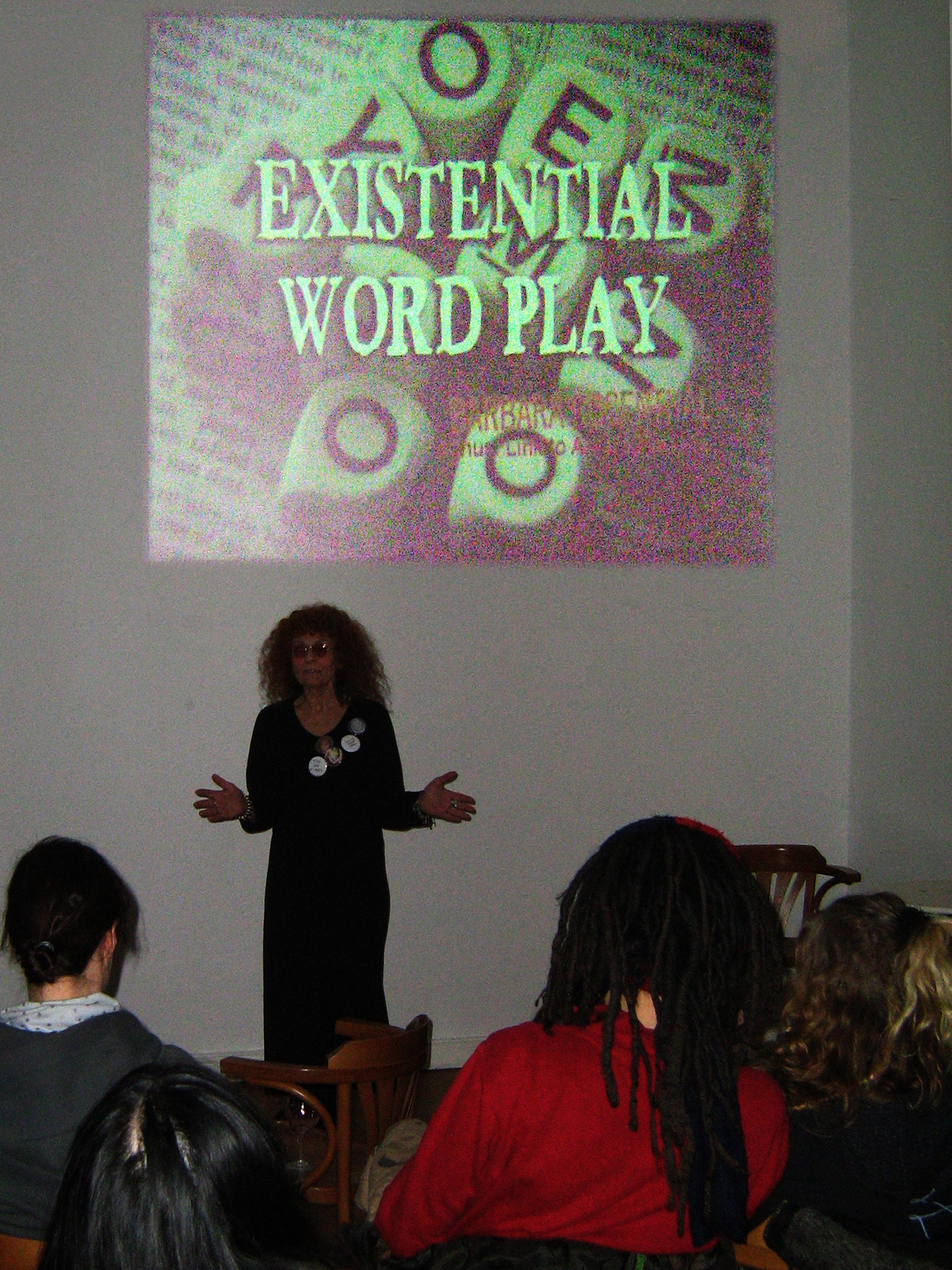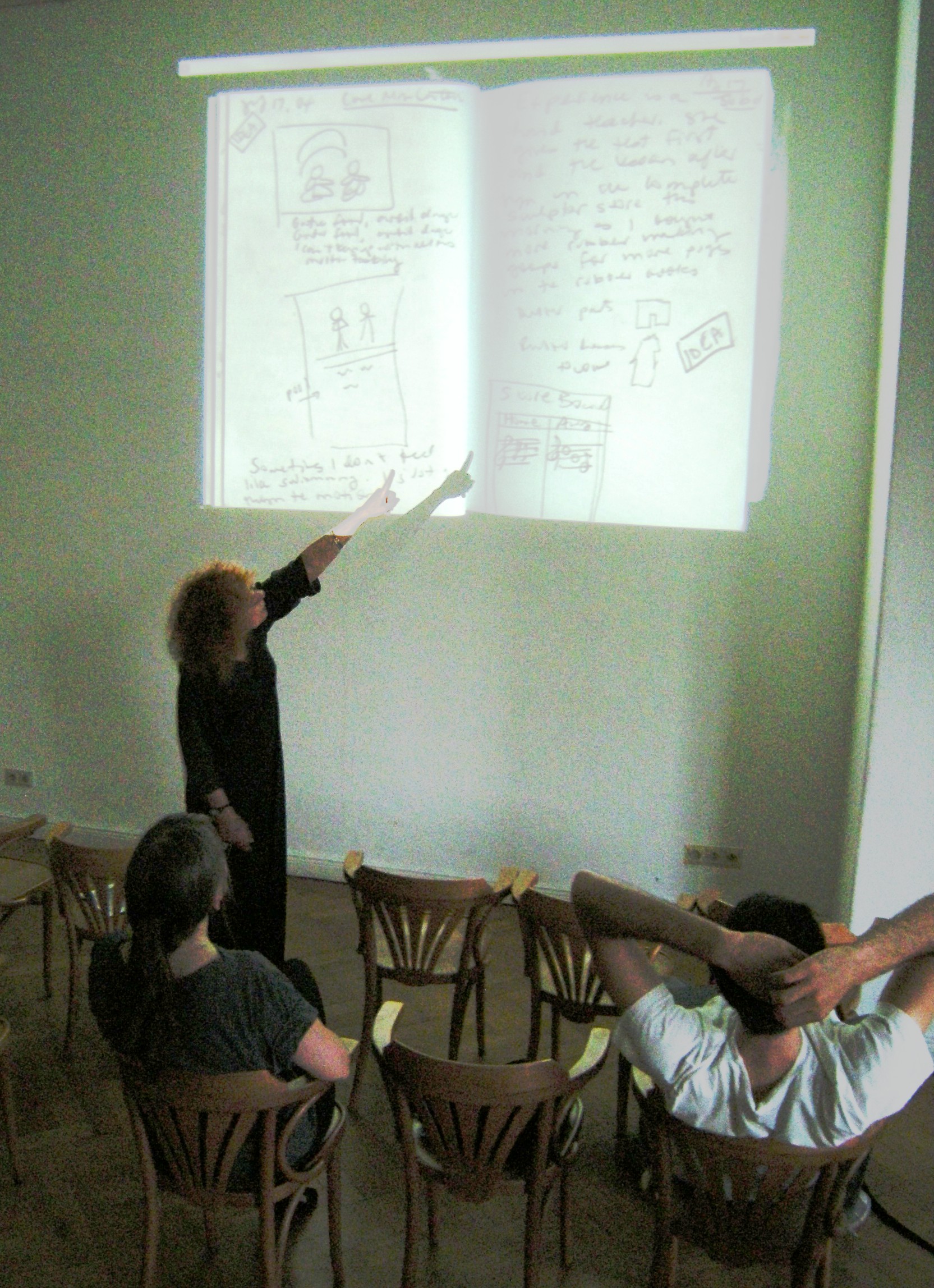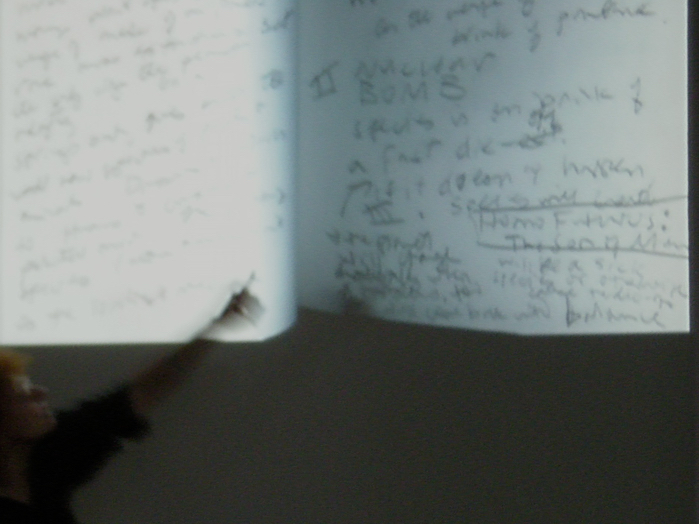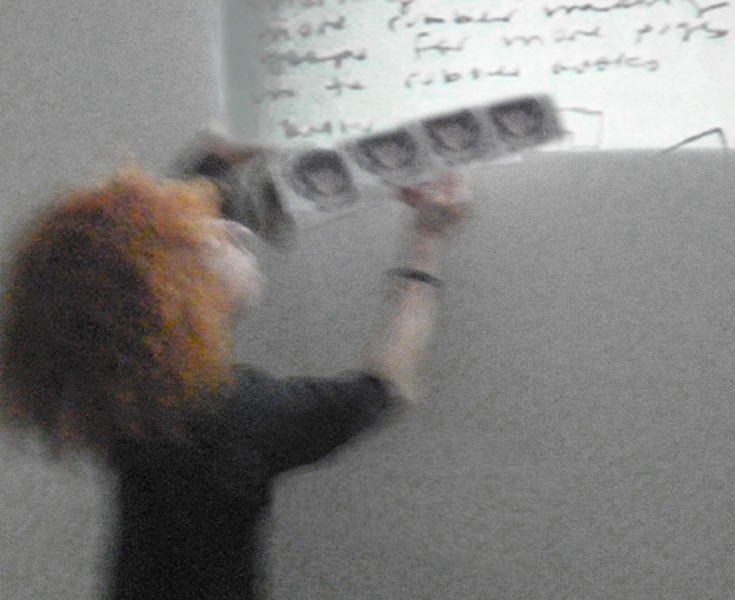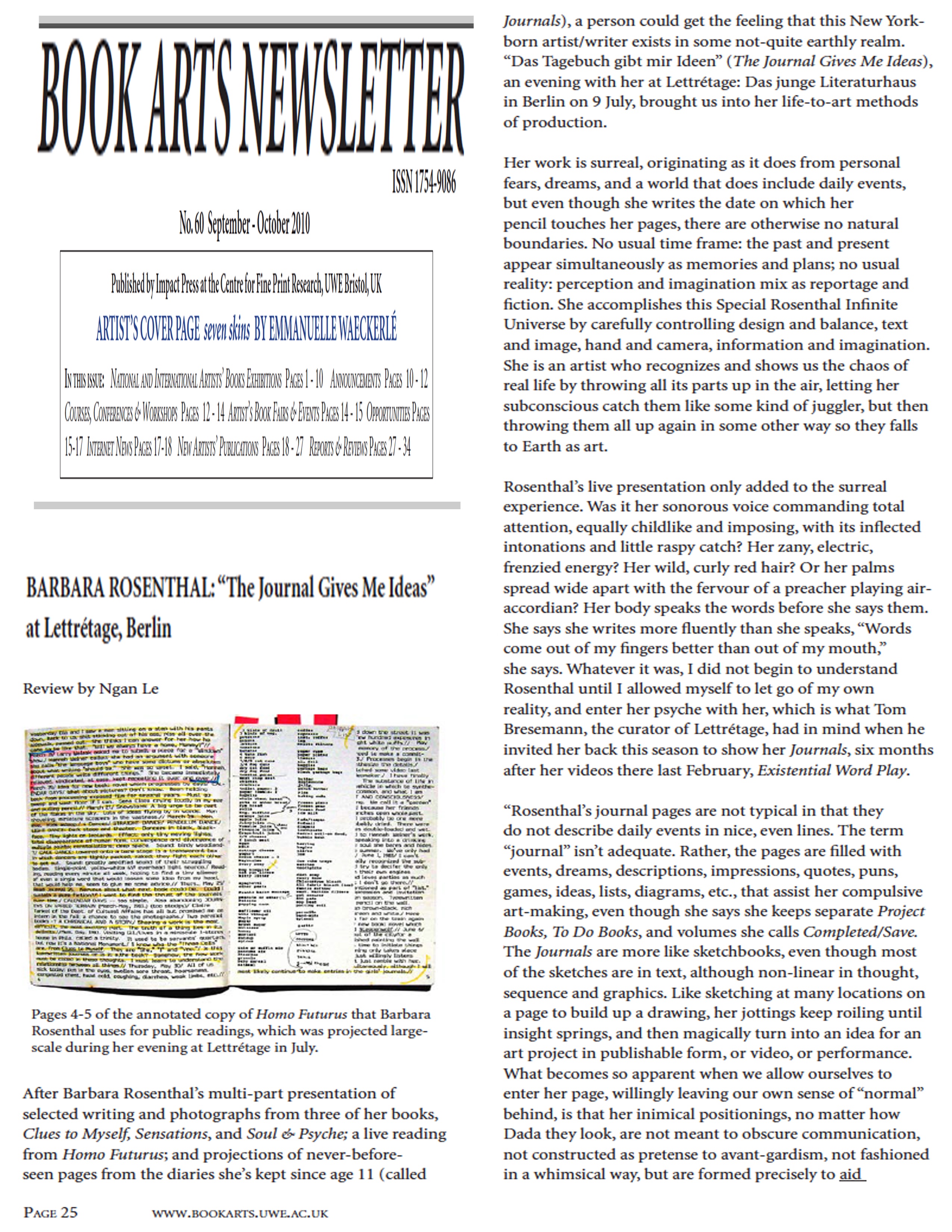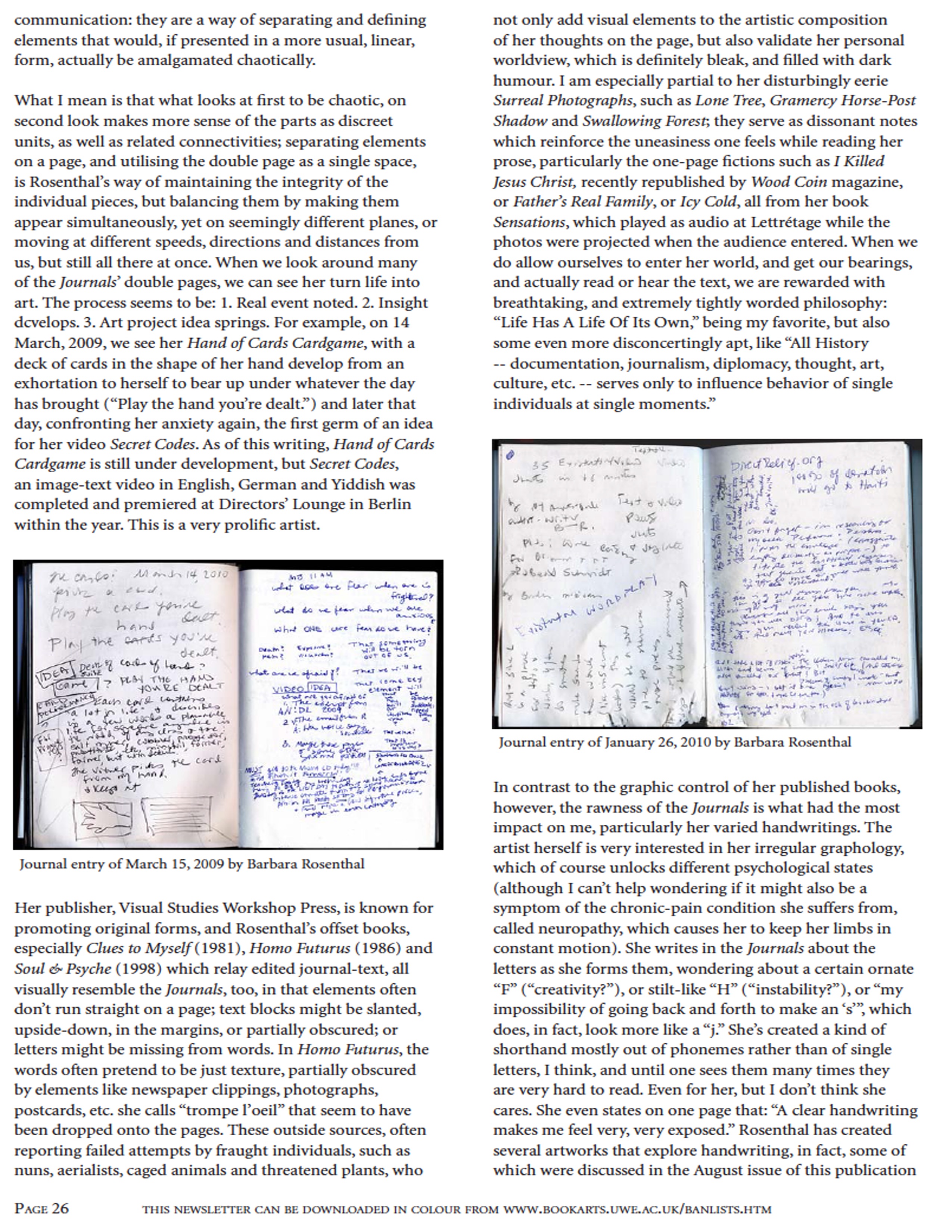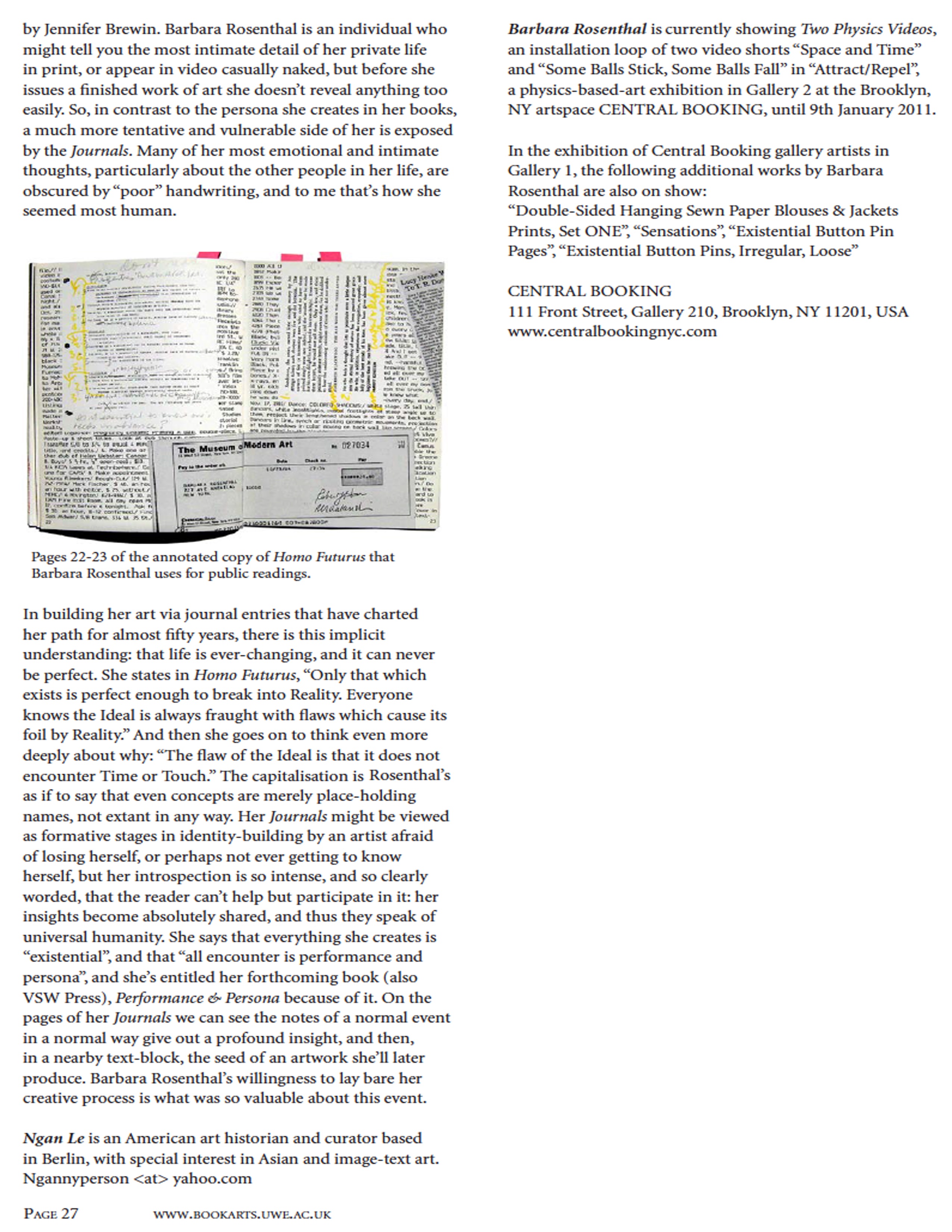 "Book Arts" December, 2010 --review by Ngan Le about Journal Project "Das Tagebuch gibt mir Ideen"/"The Journal Give Me Ideas", at Lettrétage, Berlin:
COMPLETE ISSUE FREE DOWNLOAD: http://www.bookarts.uwe.ac.uk/newspdfs/62.pdf
// "Journal Into Art" Central Booking, Brooklyn, April 1, 2011 //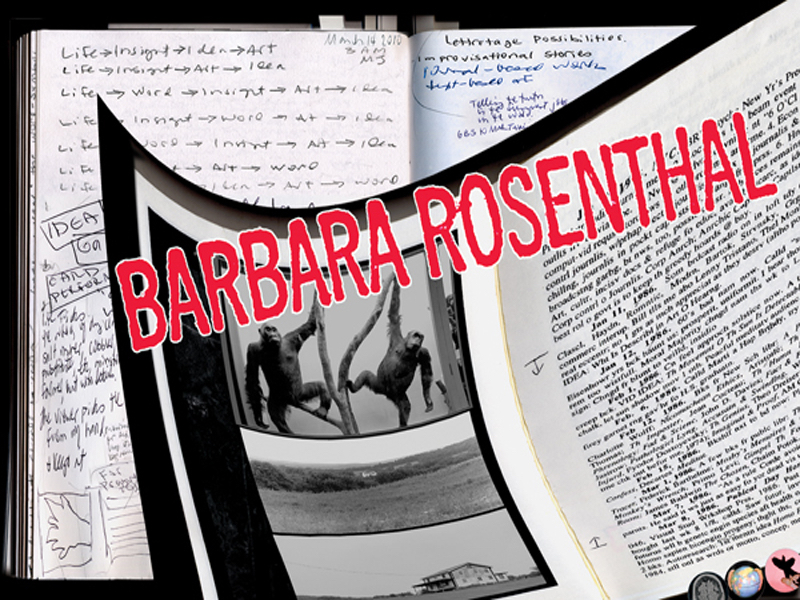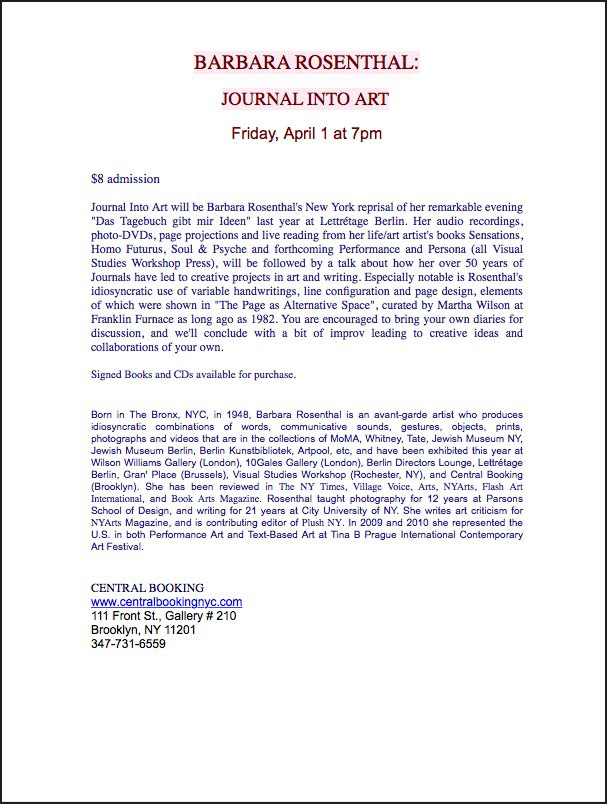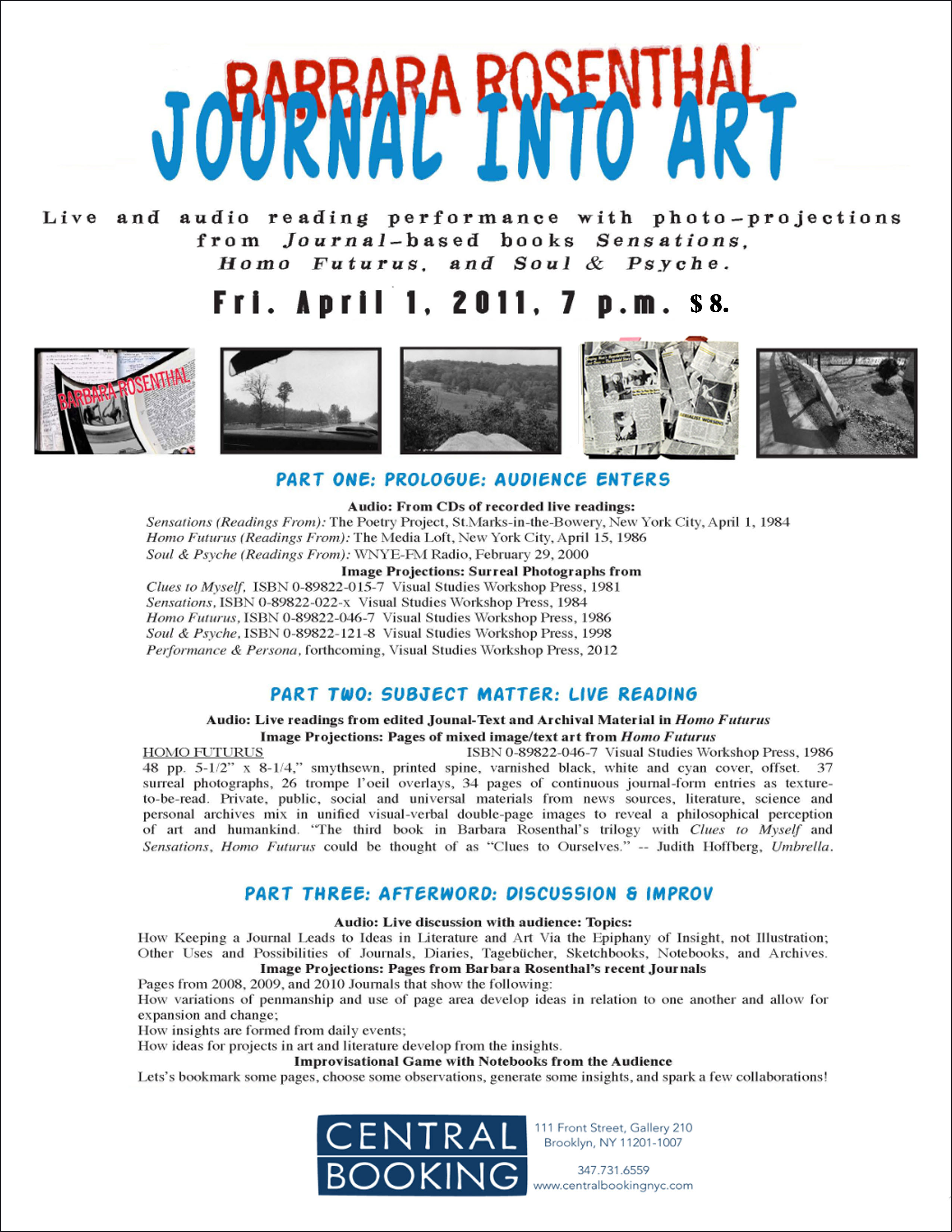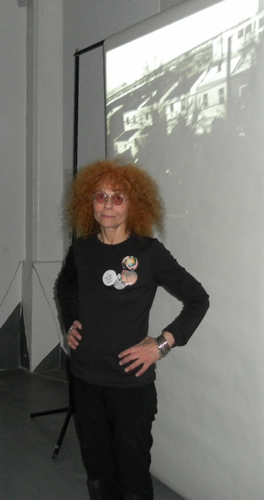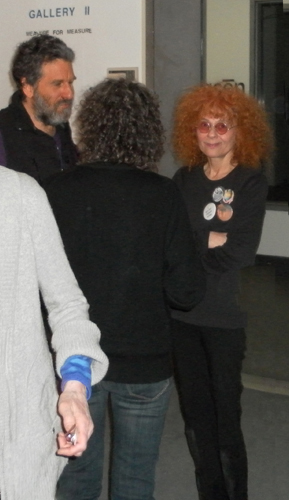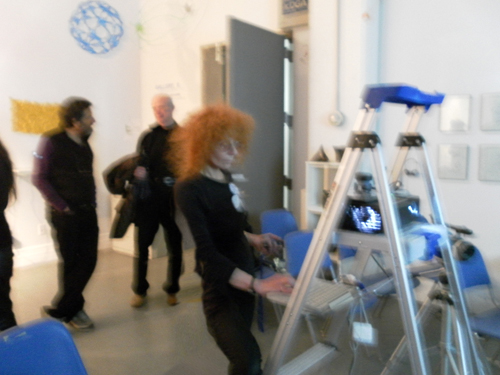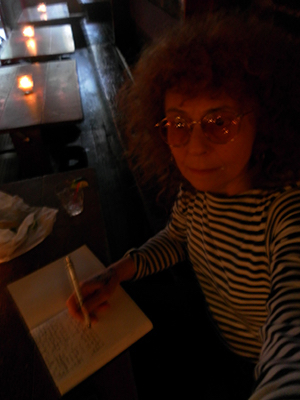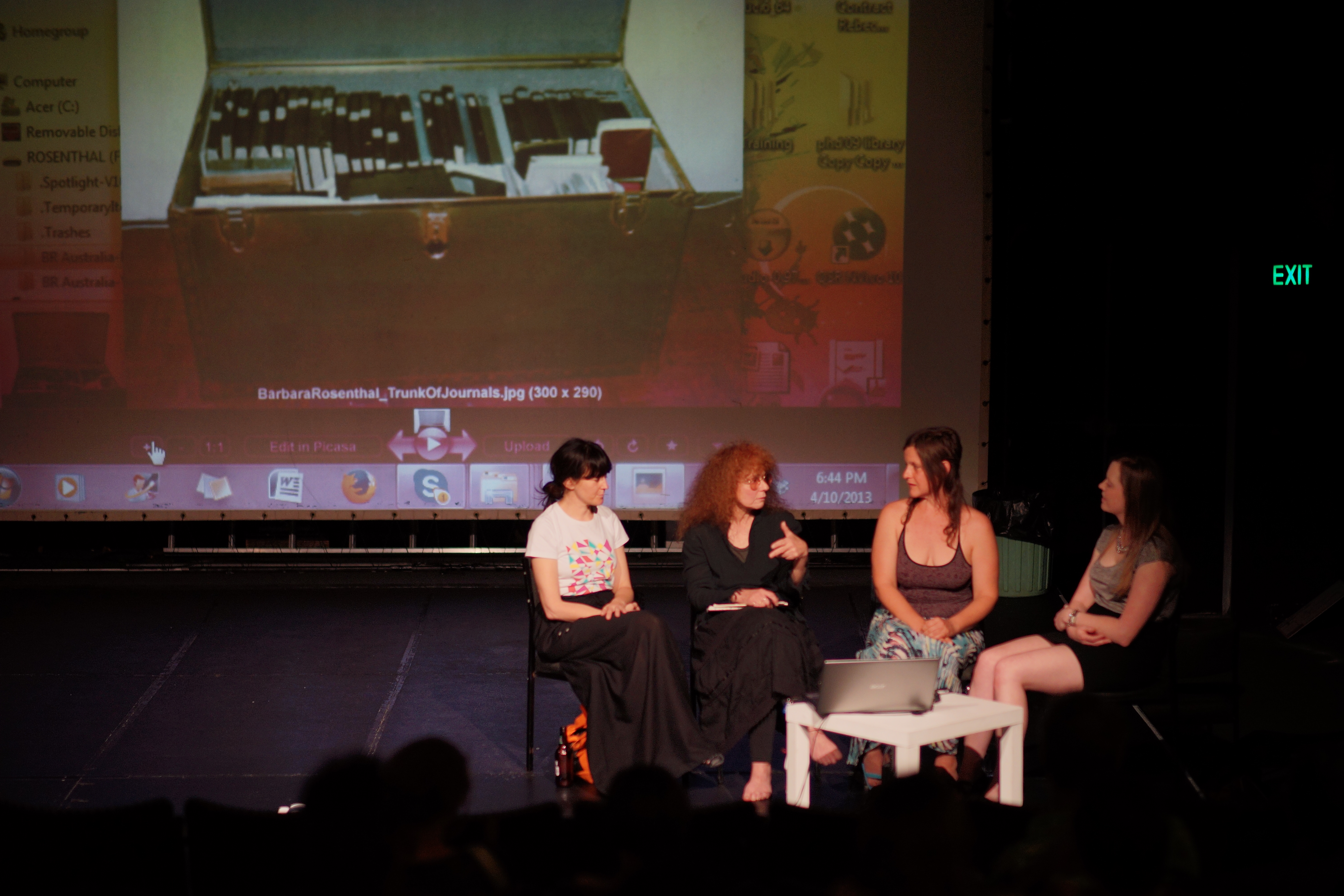 https://www.a-n.co.uk/reviews/barbara-rosenthal-hoarder-of-life-to-yield-art
REVIEWS AND ARTICLES ABOUT THE JOURNAL VOLUMES:

In the 3-page Book Arts review of Rosenthal's Journal show at Lettretage in Berlin, Ngan Le wrote: "What becomes so apparent when we allow ourselves to enter her page, willingly leaving our own sense of "normal" behind, is that her inimical positionings, no matter how Dada they look, are not meant to obscure communication, not constructed as pretense to avant-gardism, not fashioned in a whimsical way, but are formed precisely to aid communication: they are a way of separating and defining elements that would, if presented in a more usual, linear, form, actually be amalgamated chaotically."
For the full text, scroll to pg 25 of:
http://www.bookarts.uwe.ac.uk/newspdfs/62.pdf
PROJECTS THAT HAVE COME ABOUT BECAUSE OF KEEPING THE JOURNAL VOLUMES:

Homo Futurus
Provocation Cards
Games, Toys, Jokes
PROJECTS THAT HAVE COME ABOUT IN CONSCIOUS COUNTERPOINT TO KEEPING THE JOURNAL VOLUMES:

Surreal Photography
Wish for Amnesia
Distortions